MovieIndex requires an Intel processor, and a system from Mavericks (Mac OS 10.9) to High Sierra (10.13)

Studio…
!

You get the SAME BEHAVIOR with all modules:
I am lazy, I do not want to systematically have to check the result, so…
All the modules will deliver their opinion at the end of the process:

:-) the process went well, data before and after processing is coherent.

:-( the processing did not end well, datas before and after processing is not coherent, check the result.

(nothing) maybe yes, maybe no. Data are rather coherent but not concordant enough to deliver an opinion, check the result.
Create a DVD-Video
(iAuthoring)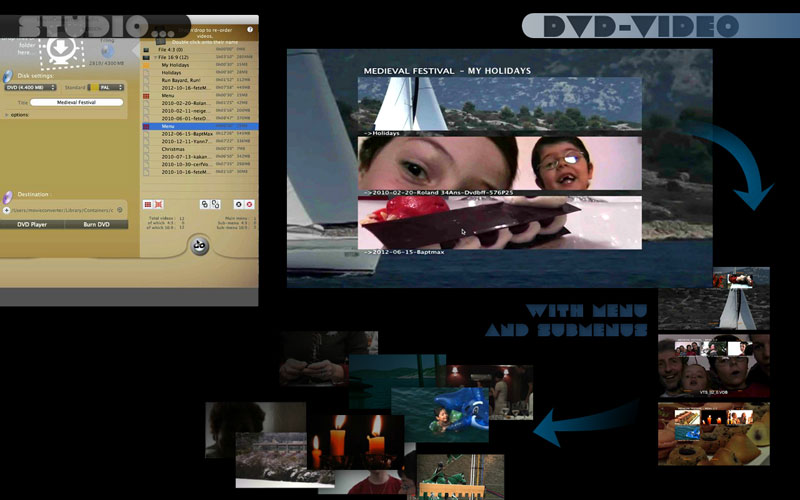 - Select your DVD standard.
(The default standard is the one you have chosen in preferences.
You can not mix NTSC and PAL movies in a single DVD, this is not allowed by DVD specifications).
- Select a mpeg file, multiple files (or a folder containing some mpeg files).
The main module ("Encoding") can produce an mpeg file ready for DVD-VIDEO. So, if your file was not already compliant (e.g.: a video from iMovie), convert it first (while selecting the "DVD output"). Then, give the resulted converted file to the DVD-VIDEO module…
- Remove one video, add another…
- Re-order them directly in the new DVD module window.
- Optional features:
Select a picture (or a mpeg movie), to set it as the DVD introduction.
Menus:
Give a title to your DVD (do not forget to validate). This title will appear on your menus.
Chapterize automatically every xx minutes (e.g.: if your video lasts 4 minutes: no chapters will be added, if your video lasts 40 minutes: it will have 10 chapters). PS: Chapters setting is available in preferences (…if you want to personalize it).
Personalize each thumbnail caption

in the new "Tracks window" (right side).

Re-order tracks by simple drag'n'drop

in the new "Tracks window" (right side).

Add audio to your menu (select music on your disk, or use the audio part of tracks to add sound to your DVD menus).

Add a background image to your menus (select an image on your disk. And MovieConverter Studio will adapt it to the needs of the DVD, depending on its size).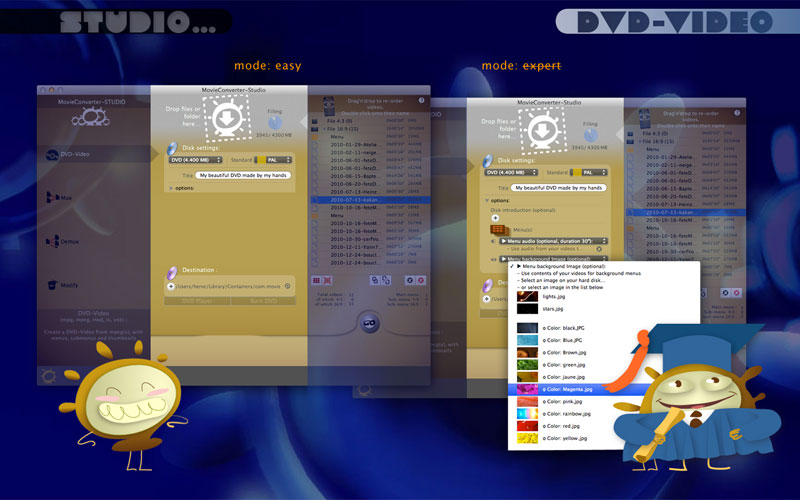 - Select a destination.
- Click on "Go" to create the "DVD-Video folder"
End of the DVD-Video module: It takes 3 minutes maximum to prepare all your DVD settings (…and let the Mac bother to do the remainder ;))
- Preview it (button "DVD Player"). Is it OK?
- So, burn it -directly from MovieConverter- to the most compatible format with DVD-readers (no more need to make a disk image

).
This feature comes from the author of the great burning soft LiquidCD

!

For better compatibility with DVD-readers, do not forget to burn it to the SLOWEST speed (avoid "maximum speed ").

Limitations :
Modify
without re-encoding
Modify/Correct your files without re-encoding: elementary video streams -m2v, mpv- or mpeg.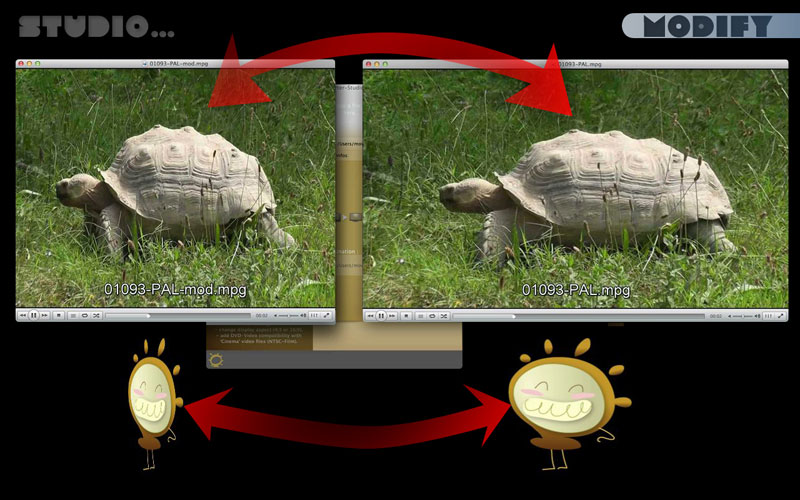 This module does not handle multiple streams in an mpeg: only the first audio, the first video and the first subtitle.
Your source file is in 4:3 but it is displayed as 16:9? Force its display (classic case with Digital Video Broadcasting : TNT, Cable, …).
Example of use: The JVC Everio camcorders can shoot in 16:9, but their 16:9 "flag" is not compatible with DVD standard. They will display as 4:3. Use this module to correct the flag without any re-encoding

.
Your source file -NTSC Film- was not correctly encoded (by another software

) to do a DVD with it? Give it to
pulldown
(more infos
here
).
!

This module is not too stupid, the only available options are the ones compatible with your source file (why propose to insert a NTSC bit in a PAL video file?

).
Demux
Extract elementary streams: video, audio and subtitle, from an mpeg.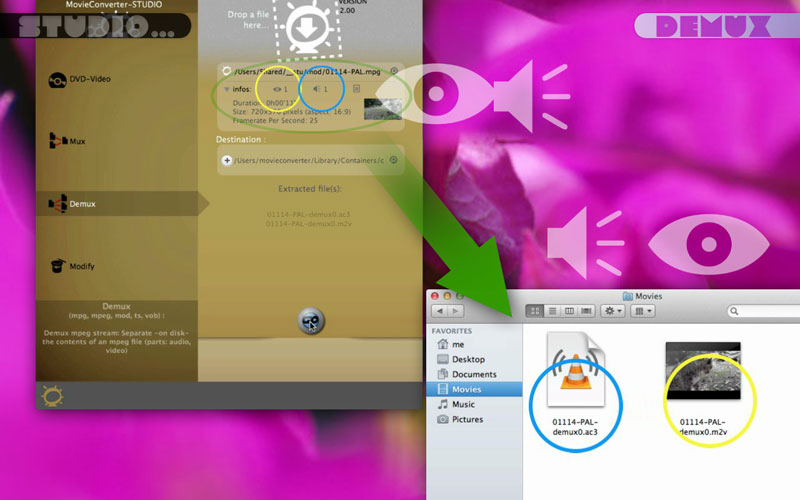 This module separates multiple streams of a MPEG: audio(s), video(s) et subtitle(s).
Only DVD subtitles are supported (and not "teletext" subtitles, as used by French and others broadcasters).
A subtitle will be automatically detected, if it starts "early" in the mpeg. If in doubt, check the option "Force search of one (or more) subtitle(s)".
MovieConverter Studiowill scan your entire mpeg to try to extract a subtitle.
If MCS find a set of subtitles, it will scan a second time to try to find another
etc
…Until MC find no more subtitles ;).
Mux
Join a video and an audio.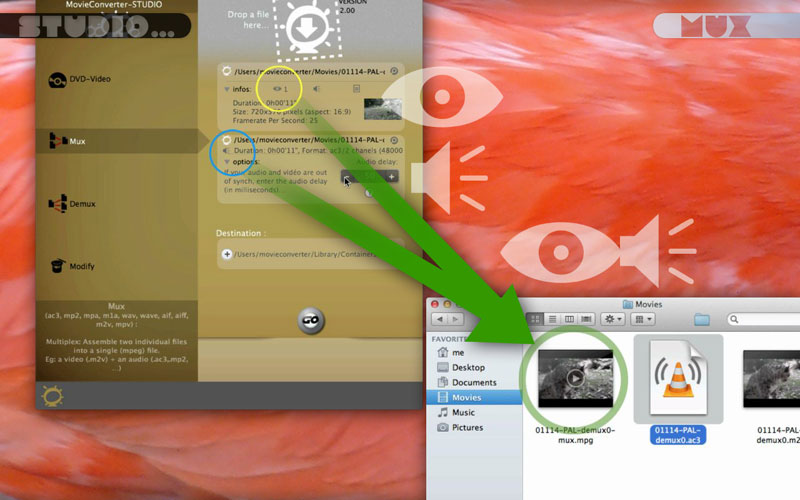 An mpeg is a mixture of video, audio (and any other data), cut in small packets and wrapped mixed. It is the reverse of the module 'demux', which separates a file to its components (called 'elementary streams').
If you have elementary streams (eg: MC's preferences are set to 'output DVD for DVDSP', or from an Eyetv.app export in "MPEG Elementary Streams", …), you can join them together with this module.